KLOCKARGÅRDENS VÅFFLERI
A hidden gem! Garden Café in Grödinge Kyrkby
Welcome to "Klockargarden" in Grodinge
Treat yourself to a freshly baked waffle made of a traditional Swedish waffle batter that has been fermenting overnight for the best taste experience.
Located in south part of Botkyrka in the Grödinge parish, dating back to the mediaeval times, we offer beautiful scenery with crystal clear winters and a peony paradise in a lush garden environment in the summer.
In an old church school built in 1864, we bake traditional Swedish pastries and serve a variety of beverages for you to enter a world of mindfulness.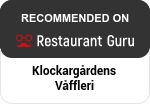 Crispy Treats!
A few favorites
Traditional Waffle
Homemade raspberry jam with whipped cream

Nutella & Banana Waffle
Nutella, Banana with whipped cream and chocolate syrup

Japanese Waffle
green tea flavored ice cream, banana, whipped cream, sesame seed and syrup

Norrlands Waffle
Creamy mushroom mix with lingonberry

Treat yourself with a part of history
Let the steaming waffles & Swedish pastries take you on a journey thru history
Welcome!
Waffle of the week is presented every Thursday after 12pm stockholm time. Just click on the Facebook logo.
Opening Hours:
Wednesdays to sunday
10AM-6PM
Klockargårdens Våffleri

Grödinge Kyrka 6, 147 92 Grödinge